The 2022 Subaru Love Promise Customer and Community Commitment Award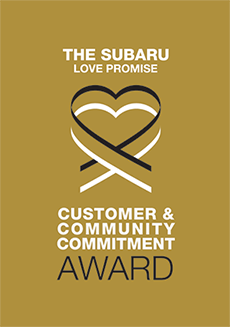 We've been nationally recognized for our dedication to our customers, our community, and the Subaru Love Promise.
We're honored to receive the 2022 Subaru Love Promise Customer and Community Commitment Award. This award nationally recognizes elite Subaru retailers who provide an exceptional customer experience at every interaction with Subaru. These retailers have also demonstrated an outstanding commitment to supporting passions and causes in their local communities in important areas such as the environment, community, health, education, and pets.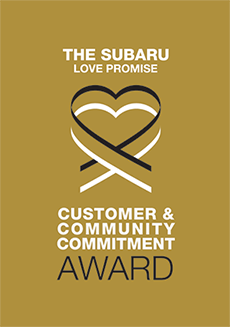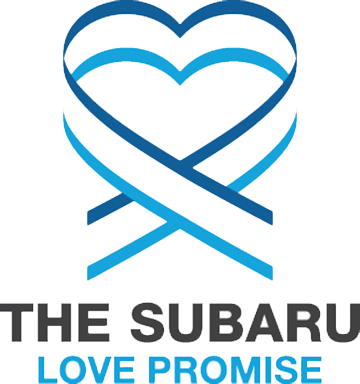 What is the Subaru Love Promise?
Subaru and our retailers believe in making the world a better place and the Subaru Love Promise is our vision of respecting all people. This is our commitment to show love and respect to our customers and to work to make a positive impact in the world.
How is Miller Hill Subaru dedicated locally to the Love Promise?
Our Love Promise can be seen in various partnerships, such as Animal Allies Humane Society, Hartley Nature Center, The John Beargrease Sled Dog Marathon, among others. We believe in being an active member in the community we live in and giving back.
Animal Allies Humane Society , Humane Society of Douglas County , AEOA
Hartley Nature Center , Lake County Humane Society , Meals on Wheels
Hartley Nature Center Preschool , Second Harvest Food Bank
The John Beargrease Sled Dog Marathon , Two Harbors Kayak Festival , American Birkebeiner , The Duluth Playhouse
Love Promise Stories from Miller Hill Subaru
Subaru and Miller Hill Subaru believe in making a positive impact on the communities in which we live and work. We uphold that belief through our Love Promise Community Commitment. Every month, we select inspiring stories from customers and partners from around our area who strive to support our collective commitment and feature them here
CHA adopts out 40 pets at Subaru Love a Pet Event - Annie D
Chequamegon Humane Association was thrilled to attend Miller Hill Subaru's "Love a Pet" Adoption event for the first time this year. Usually CHA has our biggest fundraiser of the year happening the same weekend as this event, and as such, we have never been able to attend this event before. This year, our fundraiser was canceled because of Covid-19. So when Beth reached out to us to see if we wanted to attend this year, we decided to go for it! We are a small shelter in Northern Wisconsin, and the fall and winter is usually our slowest time of the year. We weren't sure how to make this event work for us. We typically do not do same day adoptions. So this was a total switch up from our usual. Beth was so helpful with answering all of our questions and giving us advice as first-timers to this event. We brought 32 cats with us on Saturday. Our process for picking these 32 cats was, if they were ready to be adopted, they were coming with us. We brought all of our long-term resident cats, our fearful cats, our older cats, etc. We were simply hoping that some of the long-term residents would find homes. We were beyond blown away when at the end of the day, we had adopted out all 32 cats. We couldn't believe it. We decided to bring 10 dogs with us on Sunday. Eight of those ten dogs were able to be adopted that day. We were amazed at the end of the day when all 8 of those dogs were adopted. We are so thankful to Beth and the staff at Miller Hill Subaru. Their dedication to this event shows. Those are new record numbers for adoptions for CHA and could not have happened without the generosity, care, and help from those in charge of this event! Because of this event, CHA was then able to move forward with helping more cats and dogs in need. We were able to make wonderful connections with the other shelters and vendors attending the event as well. We will definitely be back again next year and look forward to seeing you all again. Thank you to Beth Nimens and the staff at Miller Hill Subaru for all of your hard work. This event was incredible, and we are so thankful to have gotten to be a part of it this year. Thank you to all the adopters who attended and gave an animal a chance at a wonderful new home and family.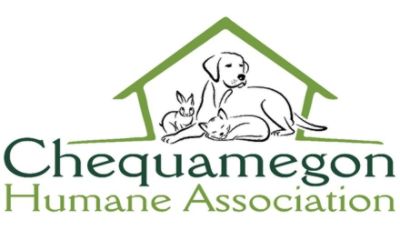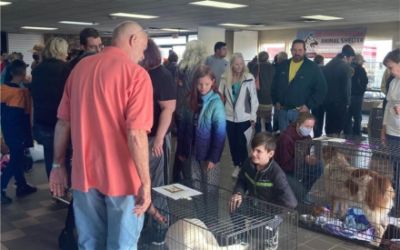 ---
2021 Subaru Love a Pet Event - Emily S
Our relationship with Miller Hill Subaru has always been wonderful, we love working with the staff and especially Beth Nimens. One of our favorite collaborations is our annual Subaru Love-a-pet event, held each fall. We partner with Miller Hill Subaru and other local shelters to put on a two day, large scale off-site adoption event in an effort to "clear the shelters". This event has been tremendously successful in the past and is a community favorite. With the help of Subaru and a grant from the ASPCA we are able to offer subsidized adoption fees for the event. We are happy to report that this year we were able to hold the event in person, with social distancing and masks strongly reccomended. We had a gangbuster year with 107 animals finding homes. Animal welfare from throughout the region was represented: The Babinski Foundation of Pequot Lakes; Contented Critters, based in Makinen, MN; Lake County Humane Society from Two Harbors; and Ashland, WI's Chequamegon Humane Association. It feels good to share the love with our neighbor shelters as well. The major success story from this year is Omar. Omar is a 12 year old, yellow lab mix. Omar was one of our long term residents, having been with us for over 2 months. He needed an extensive dental including having several teeth extracted and masses removed. No one at the shelter could figure out why he hadn't been adopted, he was the sweetest old guy with plenty of love to give. He loves other dogs, cats, kids and playing fetch. He met his perfect match on the "dog day" of our event and is now living his best life!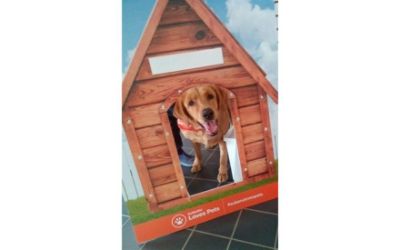 ---
The Babinski Foundation Adopts out 42 Pets - Maren M
The Babinski Foundation Animal Shelter was happy to attend Miller Hill Subaru's "Love a Pet" Adoption Drive on November 6 and 7 in Duluth, Minnesota. We successfully found homes for 19 dogs and 23 cats over the weekend due to the kindness of Miller Hill Subaru.We are a private 501c3 Non-Profit Shelter and Animal Rescue located in Pequot Lakes Minnesota with the capacity to house and care for over 100 cats and 100 dogs in our facility. Being one of the largest shelters in our small community we have felt the effects of oversaturation in our area, especially due to increased adoption interest during the COVID-19 pandemic. Without the support of our Northern neighbors, we would not be able to rehome these animals and make space in our shelter. The Babinski Foundation is considered a "no-kill" shelter, meaning we never euthanize for length of stay or lack of space. To date we maintain a 98% live release rate of our animals. During the event we were so blown away by the support and enthusiasm that we received from Beth Nimens and all the staff at Miller Hill Subaru. Without their dedication to community and pets we would not have found forever, loving homes for 42 of our animals. Because of their help and generosity in coordinating, publicizing and hosting the "Love a Pet" Adoption Drive we can now welcome new animals in need to our facility and we can watch deserving homeless pets become a part of new loving families.
---
A Big Hug and a Thank You - Trisha Z
COVID-19 presented a complex crisis of increased demand, declines in donations of food and disruptions to the charitable food assistance systems. It is because companies like Subaru, that we have been able to meet these challenges head-on and continue to provide food to our hungry neighbors like Steve who said, "I wish we could give everyone who is helping us a big hug and say thank you for your kindness because we would not make it without them." Thank you for supporting Second Harvest North Central Food Bank.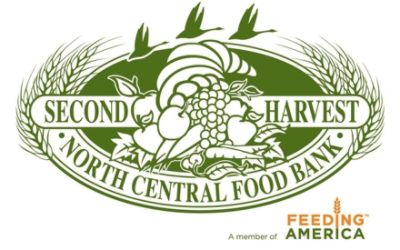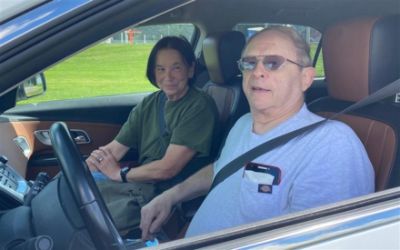 ---
Miller Hill Subaru supports nature! - Tom O
Miller Hill Subaru has been a longtime partner and supporter of Hartley Nature Center and Hartley Nature Preschool. Hartley's mission is to inspire lifelong connections with nature through education, play and exploration. In addition to providing over 62,000 hours of programming last year to people from throughout the region, we work to improve the long-term health of Hartley Park through tree planting, invasive species removal, and trail improvements. Our partnership with Miller Hill Subaru is a natural fit because they live out their environmental values by working to reduce waste and supporting the preservation of our natural spaces. Support from Miller Hill Subaru helped beautify our nature play area through the planting of trees and the installation of a small pollinator garden. This space is a beloved play spot of our preschoolers and summer campers. In addition to our tree planting efforts, support over the years from Miller Hill Subaru has help us break down barriers to participation in our longstanding school field trip program, which serves over 25 schools throughout the region. I am inspired by Miller Hill Subaru's commitment to a host of non-profits and worthy causes in our community, especially during these challenging times. Recently, they sponsored Environmental Education Week during our monthlong We Heart Hartley awareness campaign. Business and event sponsorship assist our efforts to keep fees low in our school field trip, outreach and camp programs. In addition, it also supports scholarship funds for our camp and preschool programs. This ensures that all schools, kids and families are able to participate. Long may the woods ring out with the laughter and play of joyful children. Through providing programs and services that connect people with nature and helping to instill a love of nature, we are improving the mental and physical health of our community. Our partnership with Miller Hill Subaru over the years has been a blessing to Hartley Nature Center and our mission of inspiring lifelong connections with nature. Tom O'Rourke Hartley Nature Center Executive Director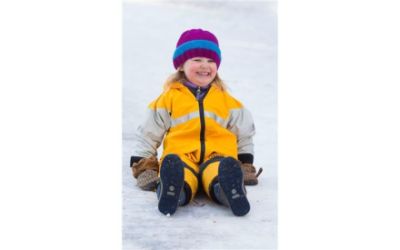 ---
Subaru "Love-A-Pet" Adoption Event - Emily S
Our relationship with Miller Hill Subaru has always been wonderful, we love working with the staff and especially Beth Nimens. One of our favorite collaborations is our annual Subaru Love-a-pet event, held each fall. We partner with Miller Hill Subaru and other local shelters to put on a two day, large scale off-site adoption event in an effort to "clear the shelters". This event has been tremendously successful in the past and is a community favorite. With the help of Subaru and a grant from the ASPCA we are able to offer subsidized adoption fees for the event. This year, as you can imagine things are quite different and we have gone to a virtual event format. We are still adopting out a significant amount of animals and helping to promote other shelters. It's not quite the same as we are lacking the excitement and community engagement of a full event but the end result is still sending animals home. One story from this year that I would like to highlight is Dullahan. Dullahan came to us from our local animal control with significant hair loss and at first we did not know exactly why. Our medical team dug in and did their thing, which resulted in his diagnosis of atopic dermatitis or skin allergies. Dullahan ended up spending a significant amount of time with us due to his medical needs but was finally adopted on October 11th after spending 219 days at the shelter. Dullahan, now called Binx has settled in nicely to his new home and is well loved. We recently received an update stating "he is making himself at home" which makes us smile from ear to ear. This adoption event allows us to place more animals like Dullahan for which we are extremely grateful. This is all possible because of our relationship with Beth and Miller Hill Subaru.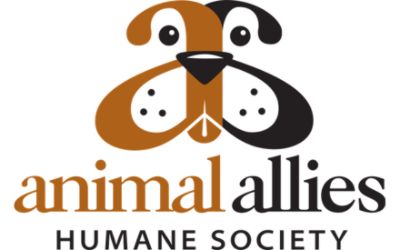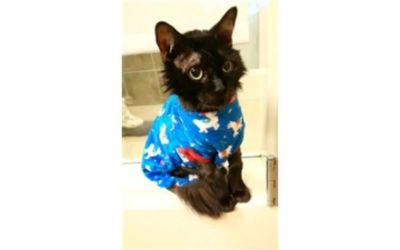 ---
Healthcare for Widlife in the Northland - Jessica L
Miller Hill Subaru chose Wildwoods as its local non-profit organization for the 2019-2020 Share the Love Campaign. They raised an astounding $15,536.52 for our work! Wildwoods is the second largest wildlife rehabilitation facility in the state of Minnesota, and the only non-profit rehabilitation facility in the Duluth area. We serve over 30 counties annually and accept all sick, injured, and orphaned wildlife, and run entirely on donations. If we cannot care for the animal in our clinic and nursery, we provide emergency stabilization and safe and secure transport to another facility that can. In 2019, we had 1,747 animals come to our facility. We had the same experience at Wildwoods that many other non-profits and small businesses have had once COVID-19 hit our communities. Our fundraising efforts were deeply impacted as we had to cancel several public fundraising events. Whereas before the crisis hit, we would have used these funds for special projects, we instead placed them in our general funds to be used for animal care and food, staff salaries, and infrastructure upgrades. We are thankful to Miller Hill Subaru for their efforts on our behalf and for helping us with crucial funds during this trying time. We were happy to extend our own hand to Miller Hill Subaru a couple of weeks ago by retrieving an injured snapping turtle that they found on their dealership property!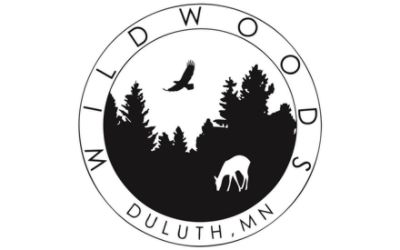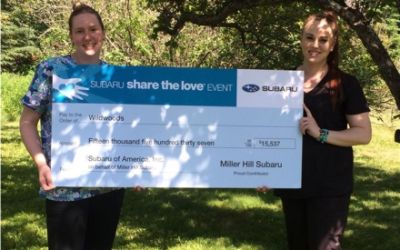 ---
Spreading Hope & Comfort At Two Hospitals - Shannon B
On July 30, The Leukemia and Lymphoma Society partnered with Miller Hill Subaru for the fourth year in a row to deliver blankets, craft kits,and personalized messages of hope to cancer patients in the Duluth community through the Subaru Loves to Care program. Miller Hill Subaru has a reputation around town for truly supporting their local community, so it was no surprise when they split their donation between two hospitals so as to truly "share the love." The first stop of the day was to Essentia Health –Duluth Cancer Clinic, where leukemia survivor Melissa (Missy) Rock and her daughter Angel accepted a blanket on behalf of LLS and Essentia. Missy was diagnosed with acute lymphoblastic leukemia eleven years ago when she was pregnant with Angel. She had to live in the hospital for four months while receiving treatment, so she said any piece of comfort such as a blanket made the world of difference for her. After spreading the love at Essentia,the entire group of Miller Hill Subaru staff, LLS staff, and Missy and Angel went down the road to St. Luke's Hospital to deliver blankets to their patients as well. The St. Luke's Cancer Center staff were so welcoming and grateful for the donation, and Missy was able to thank their social workers personally for taking such good care of their patients. Many thanks to Miller Hill Subaru, Essentia and St. Luke's not only for such a memorable day together, but for supporting LLS's mission to cure blood cancers and improve the quality of life of patients and their families.But our biggest thanks goes to Missy–for inspiring us every day and for her genuine desire to give back to other cancer patients.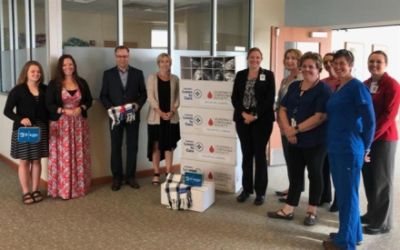 ---
#SubaruLovesToCare with LLS - Celeste L
On Wednesday, July 11, 2018, as part of the National Subaru Loves to Care program, Miller Hill Subaru worked with The Leukemia & Lymphoma Society to deliver blankets, cards of hope, and arts and crafts kits to patients at Essentia Health and St. Luke's in Duluth, Minnesota. Beth Nimens, as well as several employees of the Miller Hill Dealership, came to represent Subaru at the two hospitals. They lit up the room when they brought in the gifts and were excited with the opportunity to hand them out to patients at thehospital Two young patients, Bennett and Liam, agreed to be the patient ambassadors and accepted the blankets on behalf of Duluth patients. Bennett is a two year old who was diagnosed in August 2017 with pre-B acute lymphoblastic leukemia. Fortunately, Bennett is responding well to his treatment. He has to be in active treatment for a total of 3.5 years, which will end just in time to send him off to school. His mom says, "He will have more under his belt than the average kindergartener!" Liam is in a similar situation as Bennett. Liam was diagnosed with leukemia in September 2015, just before his second birthday. He has since completed over two and a half years of treatment and will finish at the end of the year. Liam is leading the way for Bennett to follow in his footsteps to health. The two boys were especially excited to get an art and craft kit from Beth and her team. They instantly opened them up and started pulling out everything that was inside. Liam and Bennett were all smiles and very happy with the visit from Subaru. The hospitals were also extremely grateful for Subaru's commitment to showing support for cancer patients. Thank you, Miller Hill!!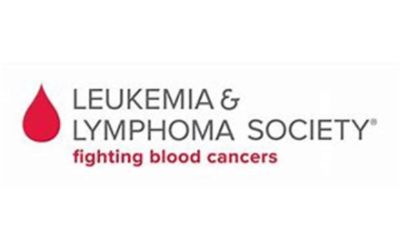 ---
Going the extra mile isn't just a slogan. - Michelle S
How to start?? (And where to finish?!) For many years, Animal Allies Humane Society has benefitted from a generous partnership with Miller Hill Subaru. The people at Miller Hill have helped with vehicle maintenance for our transport car, serious part repair and replacement at very limited cost (sometimes no cost!) to our organization, and years of support through sponsorship of Animal Allies events- big and small. Miller Hill Subaru truly outdid themselves with their generosity in support of Animal Allies' mission to ensure a loving home for every pet in 2017.The most recent example was Subaru's annual "Love A Pet" adoption event. Starting mid-Summer, the staff at Subaru and Animal Allies began the many hours of planning it takes to organize a successful adoption event. Subaru's own Marketing Director, Beth Nimens, invested hours of her time- soliciting local partner animal shelters and rescue groups to bring their animals to the event, organizing pet-oriented vendors, and assisting our planning committee with any need that would arise. Through Subaru, Beth invested in a wide-spread marketing campaign to promote the event throughout the community - television, radio, and print! Above and beyond all of this, Miller Hill Subaru really went the extra mile to make the annual 'Love A Pet' adoption event (November, 2017) shine for homeless pets this year- sponsoring the fee to cover a transport of homeless shelter dogs from Dallas, TX through local southern rescue group Rockwall Pets. These dogs were in shelters long before hurricane season hit the South, and this was their last chance at finding a new loving home. Upon arriving at Animal Allies in Duluth, MN, the dogs found foster families greeting them with open arms. Coordinating and funding a transport like this is no small feat, and Miller Hill's sponsorship made it possible to save the lives of over 20 additional dogs! The week of the event arrived. Subaru staff invested time and energy in preparing their building for the event- cleaning, mopping, scrubbing, and hanging event signage. Animal Allies staff and two additional participating rescue groups descended upon the space- literally taking over the building for the entire weekend. Tables were set and spaces arranged. The microchipping clinic space was assembled. Vendors arrived and set up displays to sell their wares. Crates of cats and kennels of dogs looking for their future families would soon fill the building.To say that the "Love A Pet" event is a community oriented event would be an understatement. This event affects the lives of homeless pets in and out of our local Duluth area- spreading to northern Minnesota into Two Harbors and up further into Grand Rapids. Local crafters and business people have a space to showcase their craft and skills - providing a platform to meet new clients, share their love for animals, and grow their small businesses. Owned animals receive microchips so they can be returned to their owners should they become lost or separated - helping return stray pets to their homes where they belong, with their families. Families arrive with their pets to have their annual photo with Santa created for their Christmas Cards - all of which is provided by local photographer, Ted Thompson (The Duluth Camera Exchange) who has provided this service for Animal Allies for over 16 years. Everything Miller Hill Subaru provides for our shelter, the rescue groups, vendors, and businesses is done FREE of charge. Not one dollar is spent by our rescues on booth space, table rental, or rental of the building. Talk about truly above and beyond. The "Love A Pet" event IS part of the fabric of our community. Neighbors and friends look forward to it year after year - several traveling from afar each year for their annual Santa photo and dose of Duluth! Duluth is lucky to have a dealership, and the amazing people who make up the fabric of their team, like Miller Hill Subaru in our community. Animal Allies Humane Society is thankful for our partnership with Miller Hill Subaru and grateful for the lives we are able to save thanks to their on-going support. Oh, yes. And where to finish... We are proud to share that, thanks to the support Miller Hill Subaru invested into this year's event, more than 100 shelter pets found new loving families, over 60 microchips were provided for owned family pets, and we enjoyed record setting numbers for photos with Santa in 2017! Thanks to the extended marketing campaign sponsored by Subaru, the event saw record attendance for BOTH days of the adoption event- prompting one rescue group to quickly arrange to bring additional cats down for the second day. All of whom were adopted. Thank you, Subaru. Thank you to the good people at Miller Hill Subaru for all you do. Your generosity has made a difference for so many lives - both the furry AND the loving families who are so happy to have a new family member to call their own.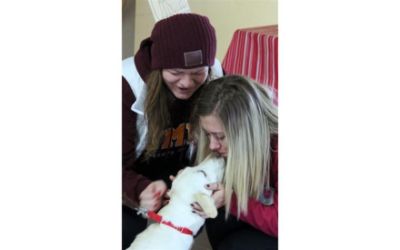 ---